Encyclopédie Marikavel-Jean-Claude-EVEN/Encyclopaedia/Enciclopedia/Enzyklopädie/egkuklopaideia
England

Bro-Saoz

Nottinghamshire

***
Thorpe
+ East Stoke = ancien camp : Ad Pontem
page ouverte en 2002
forum de discussion

* forum du site Marikavel : Academia Celtica

dernière mise à jour 02/06/2012 17:39:47

Définition : Ville d'Angleterre; comté de Nottinghamshire, sur la Fosse Way.

Elle contient le site romain Ad Pontem / East Stoke.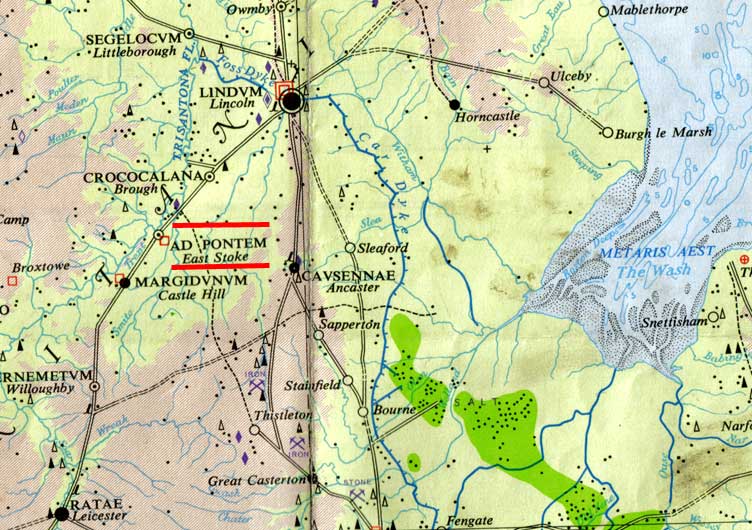 Extrait de la carte Map of Roman Britain, de Ordnance Survey

Histoire : Ad pontem se trouve sur la Fosse Way, grande route romaine diagonale, rejoignant Lindum / Lincoln à Isca Dumnoniorum / Exeter, à l'endroit où la route atteint le rive sud de la rivière Trisantona / Trent, à environ 30 km / 20 milles romains au sud-est de Lincoln.
On peut donc dater la création de cette station à l'époque de la construction de la route, vers les années 50 ap. J.C.

Étymologie :
a) Ad Pontem : cf Rivet & Smith, p 241 :
- Itinéraire d'Antonin : 4777 (Iter VI) : AD PONTEM. : village ou camp situé près d'un pont.
b) Thorpe : cf. Eilert Ekwall : du Vieil anglais : Thorp
c) East Stoke :
E. Ekwall : " stoc is found in the sense 'monastery', cell'. The original meaning 'place' is recorded in orm c 1200..."
JC Even : c'est à dire : le monastère situé à l'est du territoire de référence. Cela pourrait signifier que l'ancien établissement britto-romain aurait pu servir de refuge à des moines, y compris plus tard, à l'époque anglo-saxonne.


Sources :
- Ordnance Survey : Map of Roman Britain.
- Eilert Ekwall : The Concise Oxford Dictionary of English Place-Names. 4è édition. Clarendon Press. 1936-1980.
-A.L.F Rivet & Colin Smith : The place-names of Roman Britain. Batsford Ltd. 1979_1982

Liens électroniques des sites Internet traitant de Thorpe / Ad Pontem :

* lien communal officiel :

forums de discussion

* forum du site Marikavel : Academia Celtica

hast buan, ma mignonig

vas vite, mon petit ami
go fast, my little friend